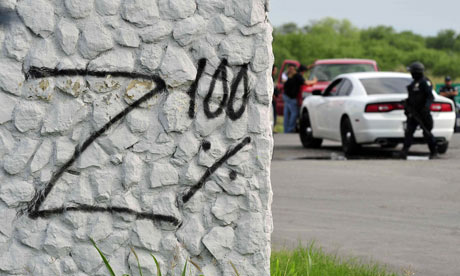 Grafitti saying 'Z 100%', referring to the Los Zetas cartel, near to where 49 mutilated bodies were found in Northern Mexico. Photograph: Miguel Sierra/EPA
Investigators are questioning Mexico's former deputy defence minister and a top army general for suspected links to organised crime, in the highest level scandal to hit the military in the five-year-old drug war.
Mexican soldiers on Tuesday detained retired general Tomás Angeles Dauahare and general Roberto Dawe González and turned them over to the country's organised crime unit, military and government officials said.
Angeles Dauahare was number 2 in the armed forces under President Felipe Calderón and helped lead the government's crackdown on drug cartels after soldiers were deployed to the streets in late 2006. He retired in 2008.
Dawe González, still an active duty general, led an elite army unit in the western state of Colima and local media said he previously held posts in the violent states of Sinaloa and Chihuahua.
An official at the attorney general's office said they would be held for several days to give testimony and then could be called in front of a judge.
"The generals are answering questions because they are allegedly tied to organised crime," the official said.
Angeles Dauahare said through a lawyer that his detention was unjustified, daily Reforma newspaper reported.
If the generals were convicted of drug trafficking, it would mark the most serious case of military corruption during Calderón's administration.
"Traditionally the armed forces had a side role in the anti-drug fight, eradicating drug crops or stopping drug shipments," said Alejandro Hope, a security analyst who formerly worked in the government intelligence agency.

"After 2006, they were more directly involved in public security, putting them at a higher risk of contact [with drug gangs]," he said.
About 55,000 people have been killed in drug violence over the past five years as rival cartels fight each other and government forces.
Worsening drug-related attacks in major cities are eroding support for Calderón's conservative National Action Party, or PAN, ahead of a 1 July presidential vote.
Over the weekend, police found 49 headless bodies on a highway in northern Mexico, the latest in a recent series of brutal massacres where mutilated corpses have been hung from bridges or shoved in iceboxes.
Opinion polls show Calderón's party is trailing by double digits behind opposition candidate Enrique Peña Nieto from the Institutional Revolutionary Party, or PRI, which says the government's drug strategy is failing.
Traditionally, the military has been seen as less susceptible to cartel bribes and intimidation than badly paid local and state police forces, who are often easily swayed by drug gang pay offs.
But there have been cases of military corruption in the past. Angeles Dauahare himself oversaw the landmark trial of two generals convicted of working with drug gangs in 2002.
Those two generals were convicted of links to the Juárez cartel once headed by the late Amado Carrillo Fuentes, who was known as the Lord of the Skies for flying plane load of cocaine into the United States.
Since then, the Sinaloa cartel - headed by Mexico's most wanted man Joaquín "Shorty" Guzmán - has expanded its power and is locked in a bloody battle over smuggling routes with the Zetas gang, founded by deserters from the Mexican army.